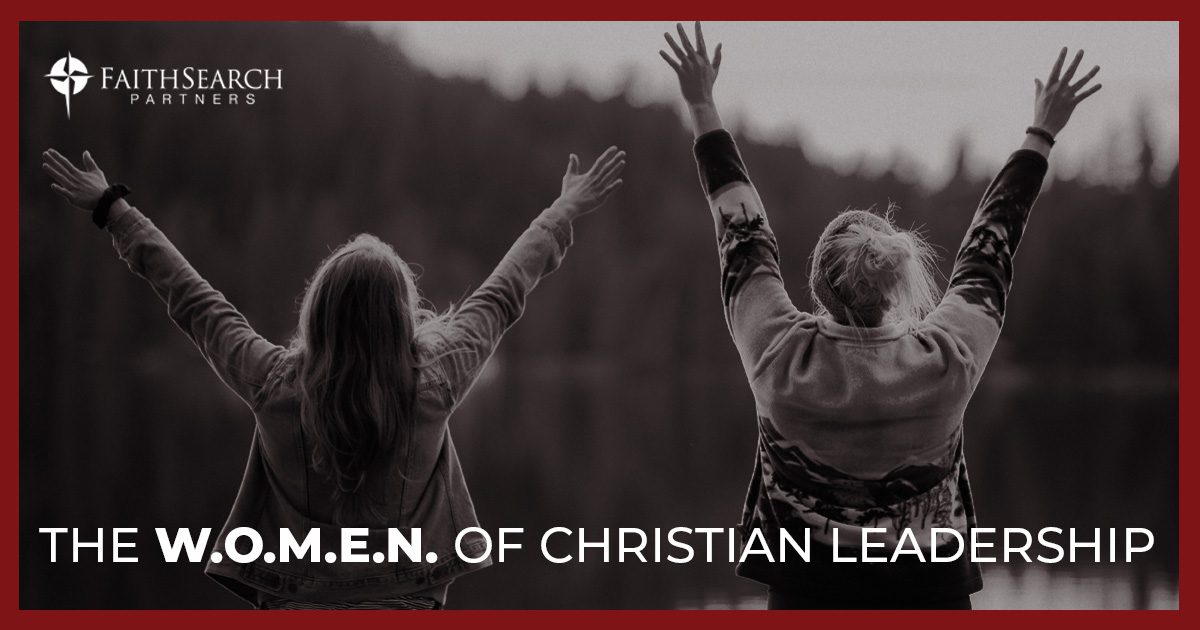 Working in executive search, you meet many leaders as both clients and candidates. You hear their life stories and the experiences which have shaped their professional and personal philosophies. At FaithSearch, we are privileged to interact with so many leaders who are Christian, many of whom are women. In honor of International Women's Day 2023, the ladies of FaithSearch have reflected on qualities we often see in Christian women leaders, whether those be in our clients, candidates, or colleagues. To be especially festive, we have identified five qualities that start with the letters W-O-M-E-N that define the women of Christian leadership. 
W – Work-Life Balance
"And He said unto them, Come ye yourselves apart into a desert place, and rest a while: for there were many coming and going, and they had no leisure so much as to eat." Mark 6:31
"While working on a search this past year, I was getting to know a female client. I read an article about her that broached the topic of work-life balance. To maximize this, for years, she and her husband have agreed that if they were to get involved in something outside of work, such as a hobby or charity, they would do it together as a couple. Reading that and the intentionality around family time has stuck with me ever since," said FaithSearch Vice President Courtney Fry.
"One of the things I appreciate about the women at FaithSearch is their value on work-life balance," said Porsche Schooley, Vice President of Administrative Services. "Things can get a bit overwhelming during our peak seasons, but the women I work with are always willing to help each other, be supportive when someone needs to take time off, and are even cognizant of sending non-urgent emails out of working hours and try to utilize the delay-send email feature when working odd hours."
O – Open Hands
"But you shall freely open your hand to him, and shall generously lend to him whatever he needs" Deuteronomy 15:8  
"I recently joined FaithSearch Partners, and I have been truly inspired by the talented women God has assembled in this organization," said Elaine Welcome, Senior Vice President of Media Practice for FaithSearch. "Each of the women I have encountered has the heart to serve each other and our clients with excellence. These women truly care and demonstrate the definition of open hands. They seek connection and demonstrate a willingness to engage others holding ideas that might challenge us to move beyond our comfort zones. They live each day with open hands, which allows them not only to give but to receive. The women I have worked with and who have inspired me to live my life with open hands are Courtney Fry, Porsche Schooley, Laura Weaver, Diane McGrath, Cindi Haworth, and Kaycey Rhudy."
"About six months ago, I was meeting with a successful candidate. She was recalling her situation when we first reached out to her about our search. At the time, she was deeply unhappy with her current employment situation. She had to deal with HR issues regarding the worst horrors of the world daily, and her organization's culture seemed to be at odds with her personal faith. She began to pray and cry out to God to change her circumstances. Later that week, she heard about our search directly from three different sources: FaithSearch, a former classmate, and another person in her professional network. When she told me these details, I couldn't help but admire how open her hands were to God during that time in her life," said Courtney Fry.
M – Meaning
"I cry out to God Most High, to God who fulfills his purpose for me." Psalm 57:2
"Recently, Elaine Welcome joined FaithSearch. This is particularly exciting for me since her experience includes being an executive for KSBJ, which is the major Christian radio station in Houston that I have been listening to since the 90s," said Courtney Fry. "While working with Elaine, I notice how often she brings meaning into our conversations. For example, she will mention how her devotional was particularly timely or how God worked in her life the previous week. She does an excellent job of getting my mind above the details of daily life and onto greater things."
"Our colleague Diane McGrath is inspiring and always keeps the message above the 'grind' of work," said Linda Fry, Director of Administrative Services at FaithSearch. "Diane seems to say just the right thing in team meetings to remind us of the meaning in our work, how we are helping our clients who are the helpers of this world, such as hospitals, nonprofits, education, media, churches, and other ministries," 
E – Enthusiasm
"Work with enthusiasm, as though you were working for the Lord rather than for people." Ephesians 6:7
"During the pandemic, I remember interviewing a candidate who was a high school science teacher. Her enthusiasm for her teaching and students was infectious," said Courtney Fry. "In our virtual interview, she became so animated in her recollection of her lessons that she started sharing pictures with my colleague and me. Some of the photos included her students at a nearby river observing the migratory patterns of salmon. Other photos were from Physics class when her students built siege weapons and got to test them by attacking a cluster of desks in the center of the classroom. She also showed us her newly renovated lab. From her enthusiasm, it was apparent the excellence in her teaching."
"I also recently had some start-up meetings for a Development position," continued Fry. "We interviewed the interim in the position who had been with the client for many years, and she was such a champion for her Development team. She talked for several minutes about her team members' deep talent and brilliance and seeing them blossom over the years. Her current mindset is that she often needs to get out of the way to let them shine. She was incredibly enthusiastic about the department even though the client faced hard times. It was inspiring to listen to her."
N – Noble
"But the seed on good soil stands for those with a noble and good heart, who hear the word, retain it, and by persevering produce a crop." Luke 8:15
"Producing crops is what we are all called to do. The W-O-M-E-N of FaithSearch Partners demonstrate noble character in their daily walk, and I know without a doubt healthy crops are being produced every day," said Elaine Welcome.
"I regularly reflect on how fortunate I am to work with so many women with noble and good hearts," said Porsche Schooley. "On the administrative team, Linda Fry has such a heart for excellence. Sarita Gilligan is so even-tempered, Kaycey Rhudy puts her heart into her work, and Valorie Miller is always eager to help in any manner. On the research team, Cindi Haworth is always cheerful while juggling so many research projects, and Linda Stanley delivers much insight to research. Courtney Fry is a tireless advocate for our team members, our clients, and candidates, and the purposeful work we do each day. These women bring so much dignity to our work while being pure of heart."
"Porsche Schooley is truly the backbone of our firm and our Proverbs 31 woman," said Kaycey Rhudy, Senior Project Manager at FaithSearch. "Porsche leads us with wise counsel and instructs us with grace, patience, and humility.  When I joined the firm, Porsche was so kind and patient as I learned the FaithSearch way. Her words have meaning, and she communicates in a thoughtful way, both internally and externally. Porsche watches over each of us with diligence and true concern. Our team would not be what we are without her."
For more on the women of Christian leadership, check out this post from last year: Four Ways Christian Women Leaders Shine.
**
FaithSearch consultants bring more than 130 years of cumulative experience in faith-based executive search. If you're looking for leaders who can make a difference for the kingdom throughout your organization – people who will positively impact your people and community – reach out to us. FaithSearch excels in securing leaders for nonprofits, higher education, ministries, and faith-driven organizations.