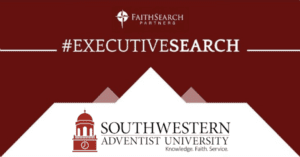 FaithSearch Partners is pleased to announce its partnership with Southwestern Adventist University to assist with their search for a new President. Serving nearly 800 students, Southwestern Adventist University is located outside the Dallas-Fort Worth metroplex and is unique in its family-like campus culture known as the "Southwestern Spirit." The university is blessed with a healthy financial status and a diverse student body, including the recent federal designation as a Hispanic-Serving Institution. Recently, the university opened a $16 Million nursing and administration building that is paid-for and debt-free. In addition, it operates the Dinosaur Science Museum with a world-class collection of more than 20,000 bones.
The next President will be a servant-leader who leads spiritually, strategically, and academically with a personal passion for students, faculty, and academic excellence. He or she should also have relatable experience with fundraising and a history of significant community involvement.
If you are aware of qualified individuals for this unique opportunity, please contact Ivan Bartolome at ivan@faithsearchpartners.com or Ed Fry at edfry@faithsearchpartners.com. Interested candidates can also forward a current resume/curriculum vitae via email. All inquiries will be held in strict confidence.