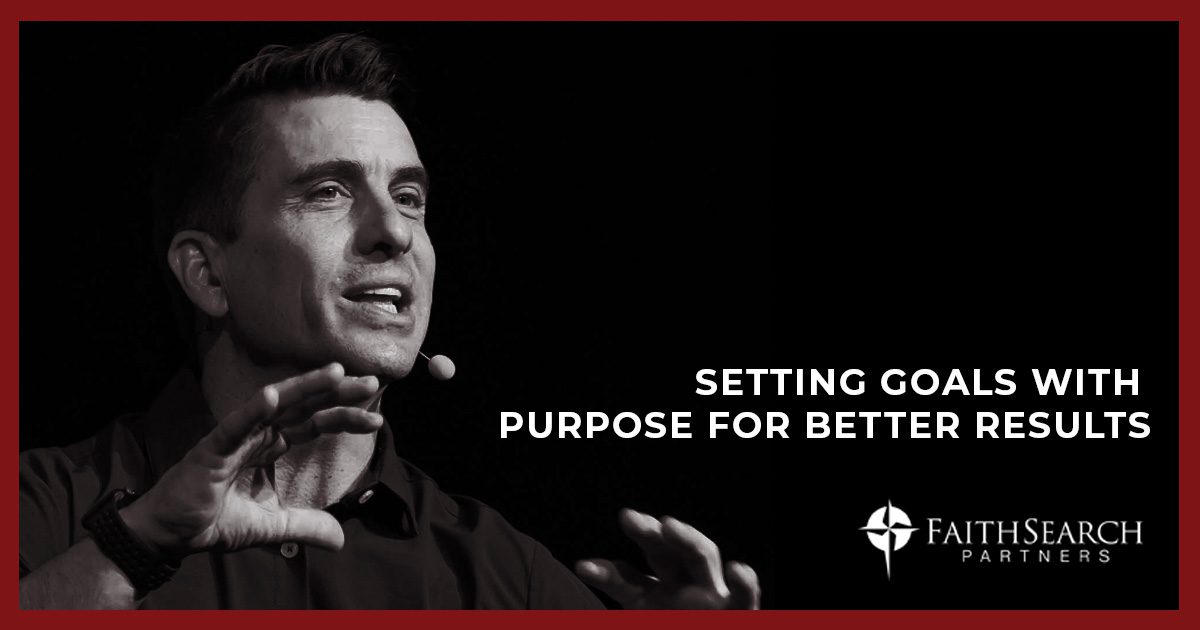 Using Covid as an Opportunity to Recalibrate
Unfortunately, most businesses fall into the "level 1" category – a company that has great opportunity, BUT makes decisions that breed mediocrity, force out potentially strong leaders, and struggle to grow into what they could be. When results create plateaus, the way annual goals are set is often a primary cause. We should all practice setting goals with purpose for better results.
Dan Thurmon, a world-renowned leadership speaker, author, and coach, suggests that we as corporate leaders should take advantage of the post-Covid landscape by embracing a better way to go about the yearly goal ritual. "In the past, we simply dealt with traditional norms for goal setting. We never really questioned the way we worked. We thought, 'I signed up for this rodeo, now what do I ride.'" 
I align Dan's traditional assessment with what John Maxwell might diagnose as a Level 1 behavior in his bestseller, "The 5 Levels of Leadership." A level 1 organization might go through the motions of goal setting that keeps the employees and the company to a baseline output – think of the famous result at year-end review time – MEETS EXPECTATIONS. I still struggle to believe that there are organizations that have this mark as the highest possible reward!
Fortunately, there is a better way to plan for better outcomes, and now is the best time to take advantage, heightened after Covid disrupted our patterns. Dan teaches that we should plan with three components. First, ensure all goals have momentum – meaning movement is baked into the goal. "You can't even turn well unless you are already going forward," he says. Second, it must have a trajectory. In other words, they point to being better every day. And finally, make sure the goal leads to congruency – it builds to something beyond the bottom line – alignment with life purpose. "I learned this in my life as I was not embracing congruence even while my career was going 'well'. The person I was off stage was not the person I was on stage. Once I decided to risk living for a purpose that was no longer about me, then my career actually grew at a much greater rate."
In the past, I used an augmented version of Smart Goals that required three layers for each recorded goal. Similar to Dan, our process included baseline, stretch, and what I called "God-sized" goals. The baseline would be something the employee expects to achieve with hard work. Stretch demanded team input for success. "God-sized" were goals that were not achievable in the current context but offered a stated view of what could be seen in the horizon (and needed supernatural intervention to achieve). You would not believe how many times I have witnessed "God-sized" goals come to fruition that we would have missed without going through the exercise at the beginning of the year.
Take the time today, at least, to make a note or to-do, to enhance the goals for you and your team. Use the disruptive context of post-Covid to re-evaluate and take advantage of new expectations and opportunities that would advance the culture for your employees. Most importantly, make sure your goal-setting process includes congruence. A corporate culture that elevates purpose is one that will be better at winning. Go win.
For more information about Dan Thurmon and Motivation Works, please visit danthurmon.com.
**
FaithSearch consultants bring more than 130 years of cumulative experience in faith-based executive search. If you're looking for leaders who can make a difference for the kingdom throughout your organization – people who will have a positive impact on your people and community – reach out to us. FaithSearch excels in securing leaders for nonprofit, higher education, ministries, and faith-driven organizations.
FaithSearch Corporate, led by Senior Vice President Bryan Fowler, is for businesses that seek strong leaders of faith. We focus on service-based for-profit and secular nonprofit organizations that promote a more inclusive environment for all employees and clients.
Contact the FaithSearch team today for more information.
Photo courtesy of DanThurmon.com.