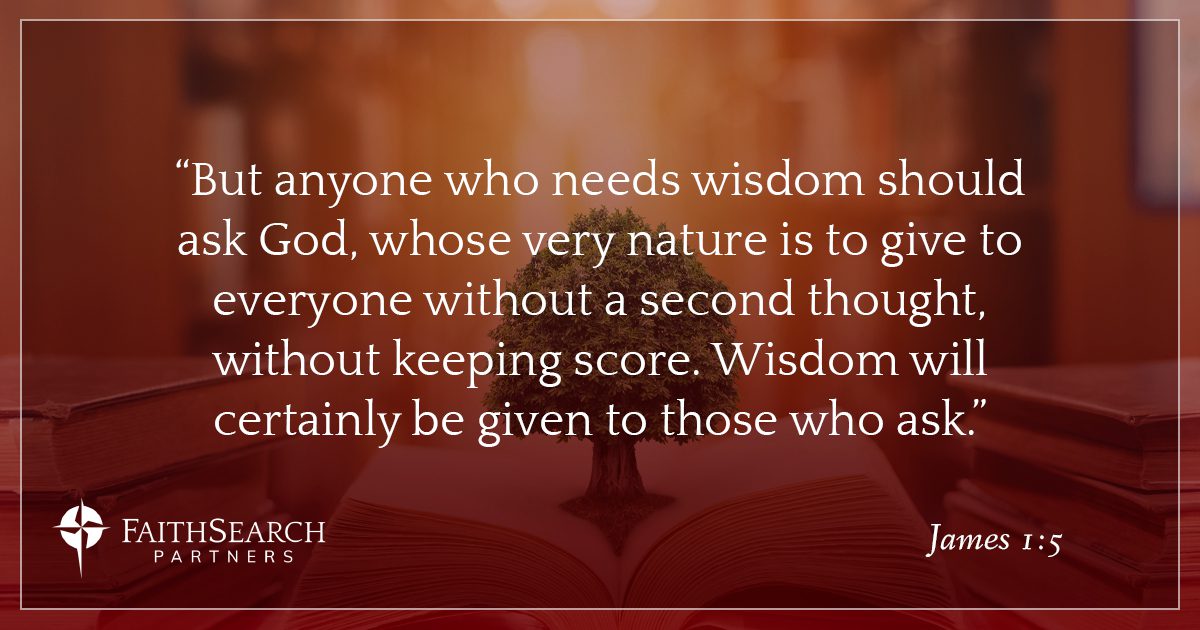 Of the many traits required of leaders, wisdom is probably the most important – and the hardest to quantify. In its simplest form, wisdom is the quality of having experience, knowledge, and good judgment. But do any of us really consider ourselves wise? And if we do, are we? Jesus' own brother, James, told us that if we seek wisdom, all we need to do is ask, and God will provide it. Great leaders ask for wisdom, repeatedly.
"But anyone who needs wisdom should ask God, whose very nature is to give to everyone without a second thought, without keeping score. Wisdom will certainly be given to those who ask." James 1:5
The most famous story of asking for wisdom in the Bible was Solomon, who asked for knowledge and wisdom (instead of wealth, riches, and power). God blessed him with knowledge, wisdom, riches, and wealth because Solomon was humble enough to ask for knowledge and the insight to apply that knowledge effectively. Solomon realized that as a leader, he was in a position of power, but only through God's grace could he govern justly.
As we embark on the 2021 journey, businesses attempt to reestablish themselves in a volatile economic and political global environment. Wisdom and patience will be needed more than ever. Decisions must be made that will impact the lives of thousands, if not millions, of people across the globe.
We should all ask for wisdom and pray for it daily. In the article, Defining Spiritual Wisdom for Yourself, everydayhealth.com outlines their seven tips for achieving spiritual wisdom:
Choose wisdom

Trust your Instincts

Set boundaries

Surround yourself with wisdom

Learn from your mistakes

Learn from other people's mistakes

Choose it daily

While God provides wisdom, if we seek wisdom, ask for it, there are steps that we can take to be in a position to receive it. 
Learn from the past while focusing on the future. 2020 wasn't all bad and great leaders will need wisdom to ensure that we can improve our future. FaithSearch Partners can secure those differential leaders for nonprofit, academic, and athletic organizations.