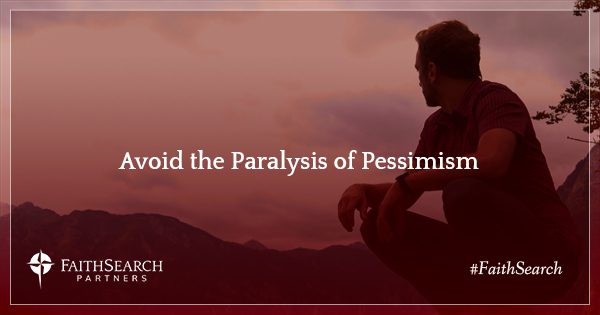 Pessimism is a disease of the soul. If left unchecked, it can infiltrate every aspect of your life or your organization, from thoughts to interactions. Hope is the opposite of pessimism, and the Bible is filled with hope. Hope for a bright future. Hope for redemption. Hope for an eternity filled with love and fellowship. As leaders of industry and people, we must avoid the paralysis of pessimism if we are to reach our potential and inspire those around us to do the same.
Men swear by someone greater than themselves, and the oath confirms what is said and puts an end to all argument. Because God wanted to make the unchanging nature of his purpose very clear to the heirs of what was promised, he confirmed it with an oath. God did this so that, by two unchangeable things in which it is impossible for God to lie, we who have fled to take hold of the hope offered to us may be greatly encouraged. We have this hope as an anchor for the soul, firm and secure.
– Hebrews 6:16-19
 The world is full of corruption and greed, anger and hate, fear and doubt.  It's easy to give in to the pressures of the world when it surrounds us daily. But we have God's promise. We must take hold of the hope He has offered. Through this, we, as leaders and Christians, may be greatly encouraged.
Pessimism is a virus that infects all that allow it to seep into their lives. It corrupts vision and chokes out hope. A pessimistic leader cannot achieve true greatness because their vision is corrupted by negativity. Their hope is removed and, therefore, cannot be passed on to others. Their faith is nonexistent.
Leadership requires hope and a vision of a bright future. Positivity based on a personal relationship with Jesus guides us as leaders. To stare into the face of the unknown and know that greatness awaits on the other side requires faith in the hope that God promised. Inspiring leaders must avoid pessimism to achieve their own greatness and lead their teams to greatness.
Impactful leaders that promote positive hope and faith are out there. FaithSearch Partners is an elite executive search firm that leads executive searches, pairing the right leaders with the right organizations in the nonprofit, academic, and athletics industries.