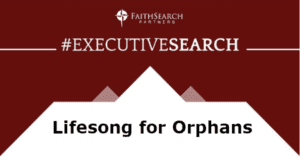 Lifesong for Orphans (Lifesong) is an organization focused on bringing joy and purpose to orphans worldwide. As a global organization, Lifesong believes God gives every child talents and blessings to lead the next generation. Lifesong provides tuition-free education to children in Haiti who cannot attend school because of poverty, in an environment that shares and demonstrates Christ first. The goal is to develop strong Christian leaders for a lifetime. Lifesong seeks to develop future leaders in Christ who will change the nation of Haiti. Specifically, the goal is to grow Christ-centered, loving, financially responsible families, provide transitional living for graduates to ease them into independent living, and create employment opportunities.
Lifesong is seeking a Haiti National Coordinator, who will work under the direction of the Vice President of Operations of Lifesong, USA to provide leadership and management of all aspects of Lifesong Haiti. As a critical leader of Lifesong Haiti, s/he will oversee the major strategic, operational, financial, and programmatic functions at Lifesong. This leader will develop key partnerships with donors, government and community leaders, community organizations, church pastors, relevant ministries, and field partners in fulfillment of the strategic plan.
The ideal candidate will have a deep understanding of Haiti, as well as knowledge of the management and cultural challenges presented in third world countries. In addition, the successful candidate will be well-prepared academically, with at least a four-year undergraduate degree in a business-related field; fluent in French, Creole and English; and have experience running an NGO/Non-Profit in Haiti.
For more information and confidential inquiries, contact Za'ndra Bishop (zbishop@faithsearchpartners.com) or Bryan Fowler (bfowler@faithsearchpartners.com).