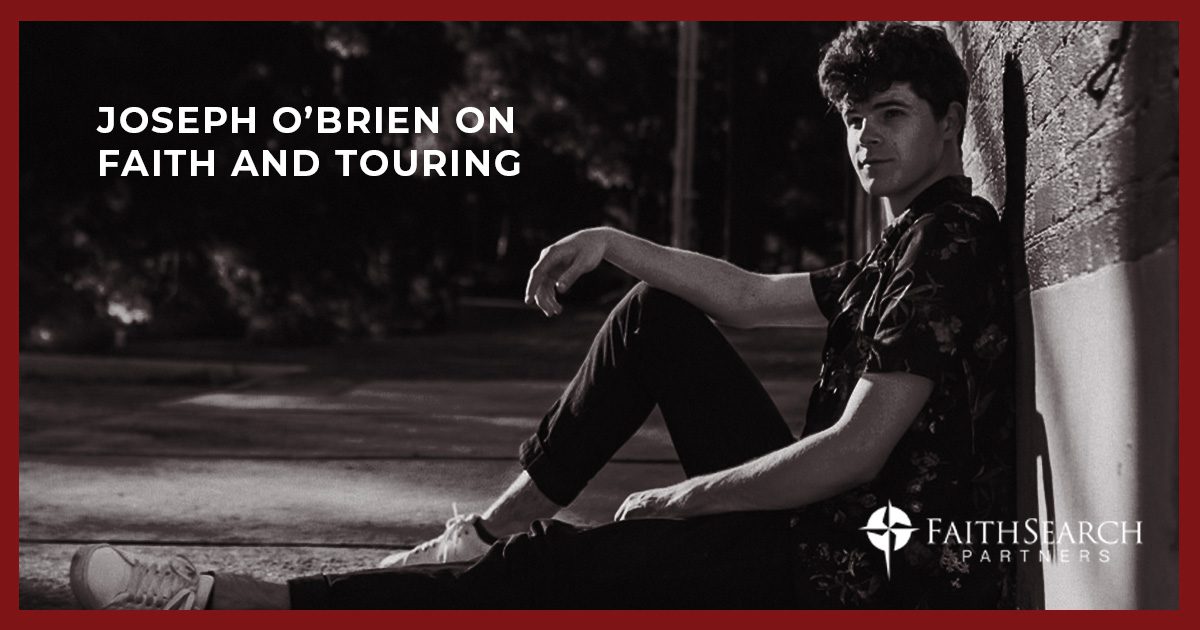 From His Faith Journey to Touring with Steven Curtis Chapman: An Interview with Christian Music Artist Joseph O'Brien
FaithSearch Partners Christian Media team is dedicated to helping Christian media organizations find exceptional leaders who can bring a fresh perspective and help them reach new heights. Our team provides comprehensive consulting and executive search services to identify creative candidates who are passionate about serving others through Christian media initiatives. To highlight the impact of Christian media, we recently interviewed Joseph O'Brien, a Christian music artist and podcaster, who is on tour with Steven Curtis Chapman. We gained insight into his faith journey, passion for Christian music, and experiences on the road with the legendary Christian musician.
Joseph has been creating music since he was in middle school and is now pursuing a career in the Christian music industry. Throughout his journey, he's remained true to his faith and goal of spreading God's message–one song at a time. He's passionate about using accessible language and artistry to share timeless truths from scripture.
For many, making a career out of their passion can be a daunting prospect. But for O'Brien, it's been a lifelong journey of faith and dedication to his craft. Growing up in Nashville, TN, surrounded by the gospel of Jesus Christ and the singing ministry of his father, Joseph was steeped in the values of Christian music from an early age. He found himself drawn to pop-sounding music and began to write and release his own music as he entered college. After an internship with TobyMac's band and a stint on America's Got Talent, Joseph finally signed with Gotee Records in June 2021 – making his lifelong dream a reality.
We sat down with Joseph O'Brien to learn more about his journey as a Christian musician, the musical influences that have shaped him, and what it's like touring with Steven Curtis Chapman.
Joseph credits his parents for instilling in him a deep faith and commitment to living out God's word. "Growing up, I was fortunate enough to have a steady and reliable support system from my parents. Every week my mom ensured that we listened to the sermon as a family, while every Wednesday night incorporated worship led by my dad, who happened to be an incredible singer in full-time ministry. It was these routine moments with them that created strong foundations for me moving forward in life."
This commitment to faith has been at the heart of Joseph's career. When he entered college, he felt called to use his talents to share the gospel through music on a daily basis. He was determined to focus on music that honored God and His Word rather than secular or contemporary pop. As Joseph puts it, "All of my life had been dedicated to sharing messages of devotion and love – a mission I wouldn't have traded for anything else in this world." This commitment has paid off, as he has been able to make an impact on people's lives through his music.
When asked about his musical influences, Joseph points to TobyMac and Relient K as two artists who have shaped him significantly. He also draws inspiration from Coldplay and Owl City, whose songs opened up new possibilities for him musically. But above all else, Joseph credits his father for being the greatest influence in his life. His father's singing ministry and love for God inspired Joseph to continue in the same direction with his own music.
Most recently, Joseph has had the honor of touring with Steven Curtis Chapman. This tour has been a dream come true for Joseph and has offered him the opportunity to gain exposure on a national level. "It's been an incredible experience for me. To be able to go out and perform with such an influential artist as Steven Curtis Chapman is truly humbling. I feel so blessed that God has given me this platform – it's something I never dreamed was possible for me," says Joseph.
Joseph hopes to continue to impact people's lives through his music and ministry as he continues to grow in his career. He believes that Christian media can have a powerful influence on the world and is dedicated to using it as a way of spreading love and hope. "The best part about this industry is that it's not just an "industry" but rather something God utilizes to benefit his Kingdom, church, and us as small vessels in it," he says. "It gives us the opportunity to potentially change someone else's life for the better, taking our attention away from ourselves. Knowing we are impacting lives in such a significant way makes all of this worth it!
Joseph O'Brien continued, "I draw a lot of my songs from the word of God, but also from my emotions. As someone who feels things very deeply, a lot of my music comes out of frustrations and feelings that I have. People, in particular, are craving this kind of honest expression – to be real with each other and ourselves. As Christian artists, it's our duty to convey truths and share our faith in a genuine way."
He's learned a lot from Steven Curtis Chapman while on the current tour.  "His passion for the gospel is something I want to draw from and emulate," he said. Joseph hopes that his music will continue to reach people who are hurting and in need of hope, through their journey of faith. Through his commitment to ministry and authentic expression of God's Word, Joseph has become a powerful example of how Christian media can be used to reach and touch lives.
In addition to touring, he's also dedicated his efforts to two main projects: creating new music and working alongside his best friend Kobe James. He's releasing new music every month while also publishing the Kojo Show, which is dedicated to entertaining college students and high schoolers with enjoyable content that helps those who might feel isolated in their faith journey find something they can relate to on their Christian walk. They create amusing songs that reflect reality, like Church Chads – the trend of a man putting his spiritual journey before any potential romantic relationship. Through humor, the duo strives to bring awareness and enjoyment into their music! They also have a series called Bible Bangers that uses modern language and music to convey Biblical passages. The content has been incredibly popular on Instagram, with the phrase "We just do not worry about tomorrow for tomorrow will worry about itself" resonating particularly well with our audience.
Joseph O'Brien's journey has been filled with many highs and lows, but he's never stopped believing in the power of music and faith. He continues to use his God-given talent to make a difference in people's lives, creating meaningful pieces that bring joy, hope, and healing.
**
FaithSearch Partners Christian Media team recognizes the critical importance of discovering talented leadership to assist organizations in achieving their aspirations and announcing God's word. We are passionate about aiding Christian media companies to identify extraordinary leaders who can provide a distinct outlook and help them accomplish outstanding success. We strive to ensure that each organization finds the perfect leader for their needs. Our dedicated team works diligently to identify candidates with creative ideas and a passion for serving others through Christian media initiatives. We also provide comprehensive support throughout the recruitment process so that each organization is able to make an informed decision when choosing its next leader.