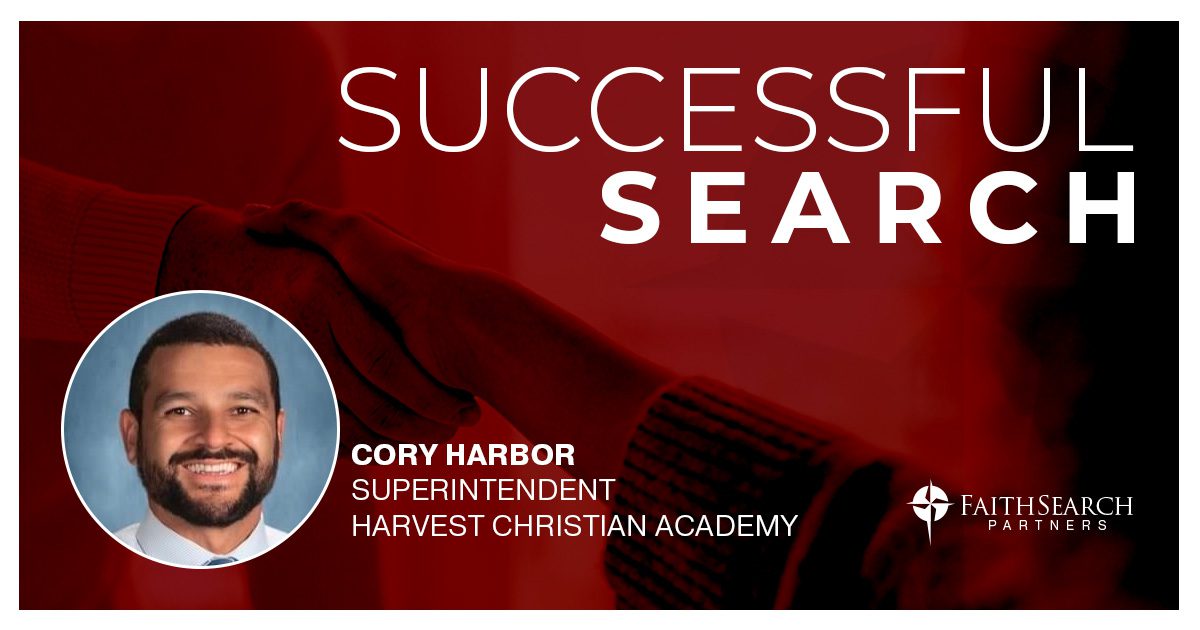 FaithSearch Partners is pleased to announce that we recently led Harvest Christian Academy through the process of selecting its new Superintendent, Cory Harbor. Mr. Harbor is a seasoned education professional with experience in K-12 and higher education. His passion for academics, sports, spiritual development, organizational strategy, and leadership development will greatly benefit the school and will complement the skills of the dedicated and talented team at HCA.
Founded in 1989, Harvest Christian Academy is a private Pre-K through 12 school located in Elgin, IL. Its mission is to provide a Christ-centered education that emphasizes academic excellence and spiritual growth. HCA leadership recognizes that this is a very exciting chapter in the life of the school, and they are looking forward to Cory's participation on the team and in the surrounding community.
FaithSearch Partners worked closely with Harvest Christian Academy and Harvest Bible Chapel to understand their unique needs and culture and thoroughly searched for the ideal candidate for the Superintendent role. Throughout the search process, Mr. Harbor demonstrated his passion and enthusiasm for education, as well as his strategic vision and leadership skills. His ability to align with HCA's values and goals has made him an excellent choice for the role.
FaithSearch Partners Consultants Diane McGrath and Laura Weaver agree that it has been an honor to partner with Harvest Bible Chapel and Harvest Christian Academy. The firm's consultants, research team, and Project Manager worked diligently to present the best candidates according to the school's needs, and the Lord blessed those efforts in that crucial period.
The FaithSearch HCA team stated, "We are confident that Cory will lead Harvest Christian Academy with integrity and excellence, and we look forward to their future successes together."
**
FaithSearch Partners is the premier executive search firm in the U.S., focusing exclusively on serving faith-based nonprofits, ministries, churches, higher education institutions, athletics organizations, and faith-oriented businesses. Based in Dallas with locations in Houston, Atlanta, Denver, Birmingham, Spokane, Asheville, and Tyler, FaithSearch can serve faith-based clients in all regions.
To learn more about FaithSearch Partners, visit www.faithsearchpartners.com. Visit our services page to learn more about its service lines.
Photo by fauxels