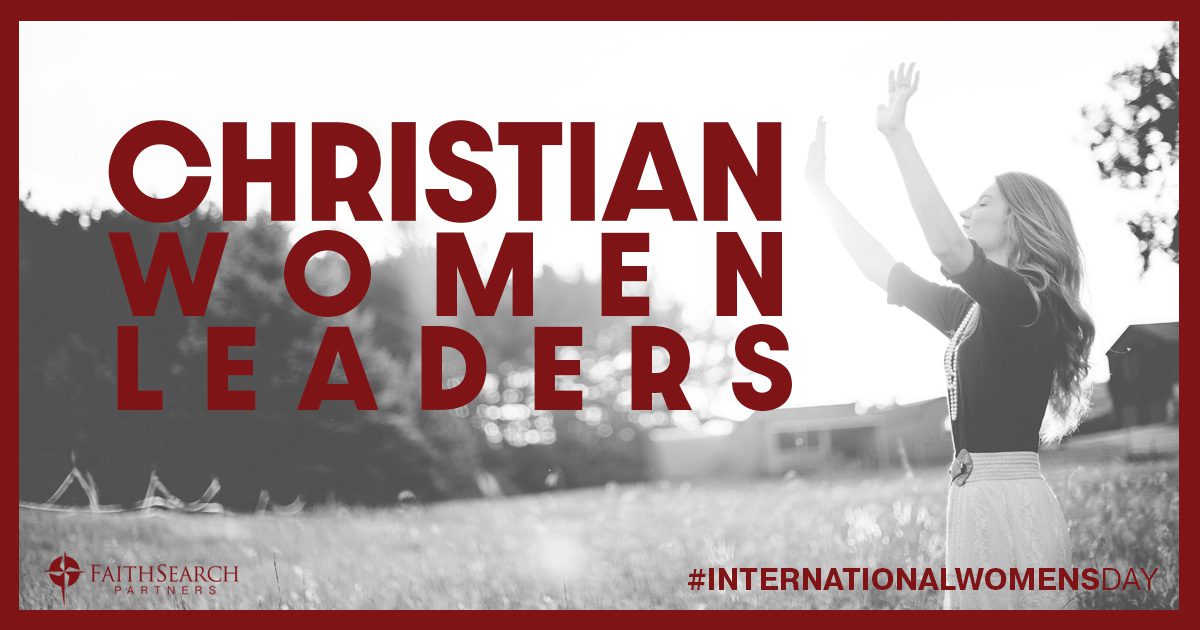 One of the things I appreciate about my job is getting a close look at Christian leaders. I get to hear their stories, learn their leadership philosophies, and witness their leadership behavior in small and large settings. Many of these leaders are female, which is particularly meaningful to me as a fellow woman in the workforce. In honor of International Women's Day, here are some stories of Christian women leaders shining and some themes I've noticed in Christian women leadership.
#1: MISSION EMPHASIS
There have been many times when I've seen women point the organization back to its mission in a poignant way. One time we were assisting a search committee in narrowing candidates for a president search. The conversation had carried on for some time, when one woman board member changed the topic and said something along the lines of, "I'm feeling the strong calling to re-center us in our need to have Jesus in the core of this decision. Can we pause for a minute and pray again?" The way she said this way particularly compelling. Shortly after she said all of that, the search committee came to a strong consensus.
Another time, we were performing a reference call on a female final candidate. Her colleague told us that, when he would get frustrated with their higher education organization and think things would soon implode, she would ease his anxiety and motivate him by pointing him to his personal mission. He told us that she would humbly and inspirationally say to him, "I know you have a faith tradition. Doesn't your faith teach you to believe in pursuing a greater good and believe in a world in which you want to live? Don't you want to be a part of the change that brings that about?"
#2: SERVANT LEADERSHIP
I've seen Christian women leaders take a strong stand on the importance of servant leadership. For instance, we had a final candidate go on-site to meet the client in person and meet the broader team with whom they would potentially work. Afterward, we were debriefing with our client about the visit, and she was troubled by the candidate's lack of attention to his potential subordinates. Apparently, he was preoccupied on his phone throughout much of his time with them. This disinterest was a deal-breaker for her despite his ample experience. She really wanted a servant leader who would be present with the team regardless of rank.
On another occasion, we were talking to a Christian woman client after she had interviewed several candidates. She was on the fence about one candidate. She was impressed by the candidate's enthusiasm and credentials but had a question mark about the candidate's listening tendencies. In this case, she asked us to probe about listening tendencies when we performed reference calls on the candidate. Having someone who would take on the position with a learning attitude, who would listen to the entire team and assess the situation before implementing a new strategy, was important to her since that is a pillar of being a servant leader.
#3: GETTING THINGS DONE
One of our clients is a female executive for a large health system. I always smile when I know I'm having a meeting with her because watching her in meetings is like a masterclass in getting things done. She comes to the meeting prepared. Her comments are insightful but concise. She's decisive but in an informed way. Plus, her meetings never run over time. She is my role model.
Within FaithSearch, my female colleagues are also especially gifted in this area. For example, Vice President of Administrative Services Porsche Schooley has been with our company since 2007, and our team constantly turns to her to make things happen. Porsche can navigate any area: search management, accounting, IT, operations, marketing. She's one of our greatest assets.  I'm regularly dazzled by Porsche and her gift of taking on any challenge and sorting through it.
#4: MENTORING
One of the things I've appreciated the most throughout the years is the women clients who go out of their way to encourage me, almost in a mentoring way. This is by far the most noticeable pattern I've seen amongst Christian women leaders: the tendency towards giving other women a voice and encouragement. Early in my executive search consultant work, I remember being in a client meeting, and the high-ranking female client turned to me (the most junior person present) and asked my opinion on the candidates before she asked anyone else. That little gesture was so meaningful to me that I still think about it today. Another memory: presenting my first candidate to a client on my own and the woman client went out of her way to be encouraging to me towards the end of the meeting. And I have dozens of other examples of women clients, candidates, and co-workers going the extra mile to encourage, mentor, or elevate me. I am deeply grateful each time it happens and hope that I in turn encourage other women in the workforce.
Having joined FaithSearch Partners in 2007, Courtney Fry has developed a deep understanding of executive search, experienced across every client industry including healthcare, nonprofit, higher education, media, churches, and other faith-based organizations. Courtney has built and led research departments for numerous search firms and serves as FaithSearch Partners' leading expert on executive research, ensuring each client receives customized, high-quality research to meet their organization's needs, such as a faith-based culture. Courtney holds an MBA from Marymount University in Arlington, Virginia, and a BBA in Accounting from Southern Methodist University's Cox School of Business in Dallas. Contact Courtney at cfry@faithsearchpartners.com.