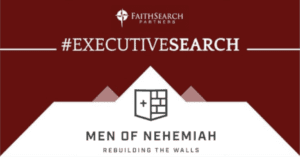 The Men of Nehemiah (TMON) is a discipleship ministry that brings the love of Christ to homeless and formerly incarcerated men in Dallas by offering tangible, sustainable avenues for hope and recovery. Since its inception, TMON has sought to help rebuild lives of men and families impacted by poverty, homelessness, substance abuse, crime, and violence. Through TMON's initiatives and ever-growing network, individuals in need receive access to vital support services such as residential accommodations, substance abuse recovery programs, peer group meetings, job readiness training, Bible studies, mentorship, and computer literacy training.
The Men of Nehemiah is currently seeking a Vice President of Development to lead all aspects of fundraising, development strategy, major gifts, and donor relations. S/he will be responsible for managing an assigned portfolio of major donors as well as overseeing solicitation, stewardship, and donor events to grow TMON's already established donor base. The Vice President of Development will report directly to the President and plans, directs, coordinates, and implements comprehensive strategies to increase funding and support and elevate public awareness of TMON's mission.
The ideal candidate will possess at least 5+ years of experience in nonprofit fundraising and donor management, with proven ability to secure and maintain relationships with donors of major gifts, including corporations. S/he should have advanced knowledge of fundraising/development techniques, practices, standards, and reporting, specifically in the areas of major gifts and corporate giving. Additionally, the Vice President of Development should be passionate about TMON's mission, as exhibited in professional or volunteer contexts.
For more information and confidential inquiries, contact Greg Barnes (gbarnes@faithsearchpartners.com) or Za'ndra Bishop (zbishop@faithsearchpartners.com).