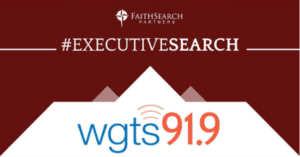 WGTS 91.9 FM is the second-largest non-commercial Christian radio station in the U.S. With nearly 550,000 weekly listeners in the Washington, D.C./Baltimore markets, the station has grown to consistently rank in the market's Top Ten and has, on occasion, been ranked number one in the evening time slot with its target audience. In 2020, WGTS was blessed to have record-high donations despite the COVID-19 pandemic. It was recently awarded as one of the Best Christian Workplaces in the U.S, as employees appreciate the radio station's Christian ministry and family feel among the staff.
The Chief Development Officer will lead and manage all aspects of the development program at WGTS, which currently generates more than $7 million annually. The CDO will develop and implement fundraising strategies for the station, oversee and manage development staff, and maintain and build the donor base at every level. This position is new for the radio station and will report to the President/General Manager, who previously oversaw the development and fundraising strategy.
Ideal candidates will have strong development/fundraising leadership backgrounds within a moderate to a large not-for-profit organization and should have advanced knowledge of fundraising/development techniques, practices, standards, and reporting. In addition, s/he should have a personal passion for Christian radio ministry and a heart for service.
For more information and confidential inquiries, contact Ed Fry (edfry@faithsearchpartners.com) or Courtney Fry (cfry@faithsearchpartners.com).