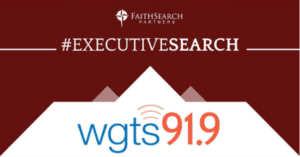 FaithSearch Partners is pleased to announce it has been retained by WGTS 91.9 FM to lead its executive search for a Chief Administration Officer. WGTS is the second largest non-commercial Christian radio station in the U.S. With nearly 550,000 weekly listeners in the Washington, D.C./Baltimore markets, the station has grown to consistently rank in the market's Top Ten and was recently awarded as one of the Best Christian Workplaces in the U.S (for the second consecutive year).
The Chief Administrative Officer will lead and manage all aspects of the operations (including programming) and human resources at WGTS, which currently generates nearly $8 million annually in financial support.  Ideal candidates will have strong operations and/or human resources leadership backgrounds, in addition to having a personal passion for Christian radio ministry and a heart for service.
For more information and confidential inquiries, contact FaithSearch President Ed Fry (edfry@faithsearchpartners.com) or Vice President Courtney Fry (cfry@faithsearchpartners.com).