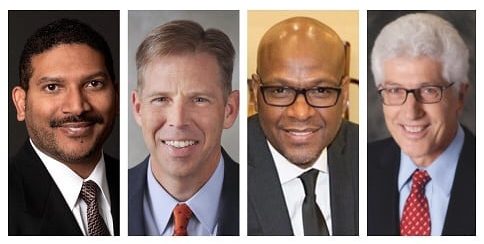 Roseville, California-based Adventist Health has selected four new members to add to its Board of Directors: Robert Cherry, MD, David Banks, Andrew Davis, and Richard Reiner. FaithSearch Partners was retained by Adventist Health to manage the searches for these positions with FaithSearch Senior Vice President Ed Reifsnyder leading the searches.
"After extensive study of its governance, Adventist Health decided to significantly restructure and refocus its Board of Directors.  The primary objectives were to create a stronger strategic focus by the Board, and to bring in new Board members with specific subject matter expertise who could make informed contributions.  Adventist Health is vigorously pursuing a transformational strategic agenda and believed it needed to strengthen its Board in support of its strategies," said Reifsnyder.
Adventist Health defined four areas of expertise that were strategically essential on the Board:  clinical quality/integration, population health, human performance, and strategic acquisitions.  "The new board members selected by Adventist Health have deep experience in these subjects.  They will bring strength and balance to the Board and help shape quality healthcare in the western United States for the next generation."
Bringing 20 years of experience as a medical executive, Robert Cherry, MD, currently serves as Chief Medical and Quality Officer for UCLA Health System in Los Angeles, California. As such, he will contribute a strong clinical quality and clinical integration perspective to the Adventist Health board. In his current position, Dr. Cherry has mobilized quality improvement efforts for the system through collaborative approaches, implemented innovative informatics methods, and improved patient experience. He holds a medical degree from Columba University, a master's degree of science in health care management from Harvard University, and a bachelor's degree of arts from Columbia University.
"Dr. Cherry is a strong physician leader who has demonstrated an innovative orientation at major health systems across the country.  He will bring an essential perspective to the Board.  In addition, he is a wonderful human being." said Reifsynder.
With more than 23 years of experience in healthcare leadership, David Banks is Executive Vice President and Chief Strategy Officer for Adventist Health System, Orlando, Florida.   Banks is responsible for Adventist Health System's Population Health Services Organization, innovation, branding, and strategic planning.. He holds a master's degree of social work from University of Maryland and a bachelor's degree in social work from Pacific Union College.
"I know Dave Banks to be a true innovator.  He has a demonstrated track record of breaking new ground  He also has a remarkable way of communicating concepts and creating enthusiasm for the strategic agenda," said Reifsnyder.
Bringing senior human performance leadership experience is Andrew Davis.  Davis has 20 years of human resources leadership experience in major American corporations.  He is currently Global Chief Diversity & Inclusion Officer for The Coca-Cola Company in Atlanta, Georgia, responsible for global strategies, programs, policies and practices across a 123,000 employee base in 207 countries. As a human resources executive, he has developed core competencies in leadership development, talent management, employee and labor relations, HR & business strategy, organizational capacity and effectiveness, and compensation and benefits. He holds a master's degree of business administration from Emory University and a bachelor's degree of science in organizational management from Columbia Union College.
"Davis brings great depth in human performance to the Board.  Adventist Health really liked the fact that his experience has been in other industries than healthcare, bringing new perspectives in an era when corporate culture and workforce development are so critical to strategy," said Reifsnyder.
Having served for over 30 years in the faith-based healthcare industry, Richard Reiner will bring a diverse set of competencies to the Adventist Health board. Retiring in 2015, he has held a variety of executive-level positions within Adventist Health System, including serving from 2006-2015 as AHS Executive Vice President and President/CEO of the AHS Multi-State Division. AHS is a 45-hospital health system with over 200 affiliated entities; the system is the parent company of Florida Hospital, the nation's largest Medicare provider. Reiner holds a bachelor's degree of arts in business administration from Union College in Lincoln, Nebraska.
"Reiner brings to the Board of Adventist Health deep senior level executive experience.  Of particular interest to Adventist Health is Reiner's experience in strategic acquisitions in different transaction structures.  The insights gained will be valuable to Advnetist Health's strategic execution," said Reifsnyder.
Adventist Health is a faith-based, nonprofit health system operating on the West Coast of the United States.  It is a mission of the Seventh-day Adventist Church in the Pacific Union and North Pacific Union.  It comprises 20 hospitals, 23,000 employees, and numerous other healthcare facilities.
FaithSearch Partners is the leading executive search firm focused on faith-based hospitals, healthcare systems, skilled nursing facilities, post-acute care organizations, colleges/universities, churches and ministries and is one of the ten largest healthcare executive search firms.  Based in Texas but with seven additional locations in the U.S., it was founded more than ten years ago.