Executive Onboarding Checklist for Faith-Based Nonprofits
9 Keys to Equipping New Leaders in Nonprofit Organizations with Faith-Based Missions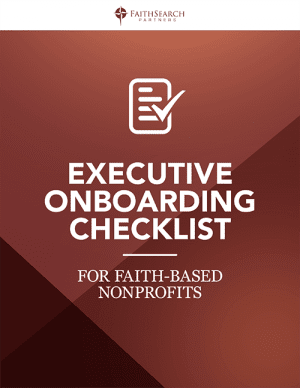 Nonprofit organizations with faith-based missions need leaders that fully understand the details that comprise their unique culture.
Too often, executives are left to fend for themselves when they begin their new roles, leading to an increase in failed hires. Establishing and following a protocol is the only way to ensure new executives truly become a part of the organization.
In this free executive onboarding checklist you will learn how to:
Identify overlooked elements of executive onboarding
Implement additional steps faith-based organizations must take to ensure leaders truly become a part of the organization
Improve internal communications that impact the performance and longevity of new leaders
Download the 
"Executive Onboarding Checklist for Faith-Based Nonprofits" and stay up-to-date on other faith-based nonprofit news with our monthly email newsletter.