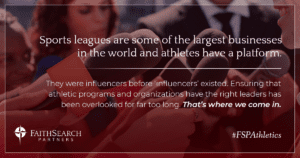 Athletic leagues, organizations, teams, and players are some of the most influential and successful people on the planet.  And it's not limited to the pros.  Sure, the NFL, MLB, NBA, NHL, PGA, and soccer leagues around the world are huge. But so are colleges and universities, many of which depend on the business of sports to survive. With so much focus on the sports, it's more important than ever that the right leaders – both for the organization and the candidate – are placed in front offices and athletic departments.
Sports and athletes play a major role in our modern society, much the same way they have for centuries. They were influencers before influencers existed. The public listens to their heroes, but who do the heroes turn to when they have questions or need guidance? 
Athletic administrators at the collegiate and professional levels impact the day-to-day lives of these athletes and organizations. The head coach sets the tone for the team on the field. General Managers and Athletic Directors set the tone in the front office. And it's becoming increasingly difficult to find the right people for those roles in the business of sports.  Sure, there are major search firms that focus on major head coaching searches and it's a very important and highly visual aspect of the business.
But who's searching for the Athletic Directors or Associate Athletic Directors?  Who's searching for the Chaplains?  Is anyone searching for Chief HR Officers or Chief Marketing Officers in collegiate conferences?  How about business operations leaders and financial leaders for athletic associations? 
Search for and placement of Christian leaders has long been attributed to healthcare systems, academic institutions, or nonprofits – most of which already have some tie to the church. Why not the business of sports? In a society that shuns open signs of religion, sports denies that. Athletes can often be found pointing to the heavens or kneeling in prayer after a big play.  With a little guidance from the right organizational leaders, entire organizations can be beacons of hope. And the hope in that is worth celebrating … and maybe dedicating some resources to.