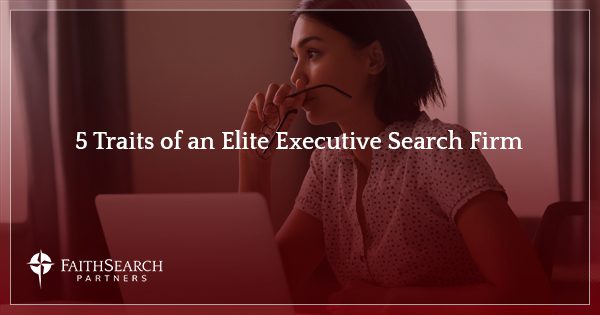 The success of most great businesses depends on many factors.  But one commonality they all share is great leadership. Sure, some fall into success by sheer happenstance, but by-and-large, success can be directly attributed to quality leadership. And with the demand for leadership ever-increasing, executive search firms are becoming more and more important. To help you determine which is right for you, here's a list of five critical traits of an elite executive search firm:
Experience – The best executive search firms don't become the best overnight. The art of securing leaders who will impact organizations and their communities take years to cultivate. Experience means knowing the nuances of searching for certain positions, how to assess clients' needs, how to reach highly qualified prospects, how to keep candidates engaged, how to orchestrate productive conversations between the client and candidates, and so forth. Additionally, search firm experience is not limited to the executive search firm industry. The best search firm teams include people who formerly worked in your industry. They draw on their collective industry expertise to pair the right candidate with your organization.
Process – A quality search firm must have a process. Successful searches are often the result of a deliberate, structured professional search process. The best firms have tailored their processes through years of trial-and-error while also allowing flexibility to adapt their process to each client's search needs. Look for a search firm whose process includes a thorough assessment of your company needs, rigorous research and outreach, careful screening and evaluation, orderly interviews and referencing, and deliberate negotiations and transitions.
Passionate Purpose – While listed here as number three, passionate purpose may be the key to just about everything we do in life. If we're passionate about what we're doing, we're more likely to commit everything we can toward its success. It's no different for elite executive search. Your search firm should operate with the mindset that securing impactful leaders is their calling in life.
Research – Expert research is key to any successful search. A thorough understanding of the hiring organization, its culture, the position, and the leadership qualities they're looking for is vital. In parallel, candidates must be discovered, reviewed, interviewed, and vetted to determine their fit for the position, organization, and community. One without the other is ineffective and inefficient. An expert research team can find candidates the organization could not have on their own and, in most cases, find candidates who weren't even looking for a new position.  Find out if the firm you are considering focuses on original research for your search or whether it merely relies on its existing database.
Relationships – Everything in life comes down to relationships. Who can you trust? Who do you relate to? Through years of proven experience and involvement in both industry and search-related networking, executive search firms tap into their relationships for knowledge gathering, organizational assessments, candidate fit, or recommendations. But firms with the best relationships with people, leaders, and prospects, are typically the most successful.
If you're looking for differential leaders that can have a positive impact on your organization, FaithSearch Partners is an elite executive search firm that embodies each of the traits listed above. FaithSearch Partners excels in securing leaders for healthcare, nonprofit, academic, athletic, and ministry organizations.