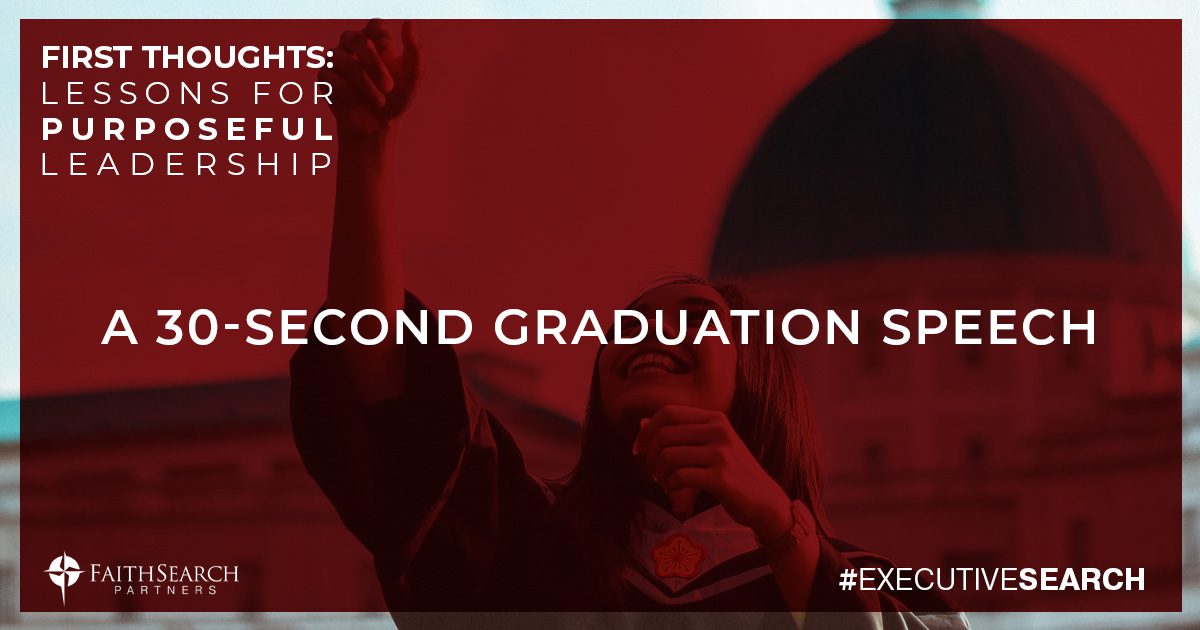 Here's a 30-second graduation speech with nine lessons for college graduates. Adding illustrations would only weaken the points!
I need to listen carefully.
I need to guard and limit my own speech, spoken and written.
I need to extend grace to others, even if I feel I have not received grace from them.
I need to apologize quickly and without qualifying conditions when I have been wrong or when I have hurt someone.
I need to recognize that the loneliness I sometimes feel is actually shared by everyone.
I need to find happiness in the fleeting moments of the day.
I need to respect everyone.
I need to take a walk when I'm stressed, even when it is raining and—perhaps—especially when it is raining.
I need to remember to trust the Lord with all my heart and lean not on my own understanding.
At FaithSearch Partners, we seek to live out the lessons from this graduation speech in our personal and professional lives. FaithSearch consultants bring over 130 years of cumulative search experience in faith-based executive search. If you're in the market for new leadership that will have a lasting impact throughout your organization, on your people, and in your community, FaithSearch excels in securing leaders for higher education organizations.
To learn more about FaithSearch Partners, visit www.faithsearchpartners.com. Visit our Higher Education service line page to learn more about what our Higher Education team can do for you.
Photo by JodyHongFilms on Unsplash